---
---
Whether it be one of his ingenious, off-beat creations, a particular TV appearance , one of many victories in close-up competition or through reading one of his highly celebrated magic journals. Chances are, if you love close-up magic, you will have heard the name of Stephen Tucker. Stephen has been at the very heart of the UK magic scene for over thirty years and in that time has gained a reputation among those in the know as a creator, performer, and author of the highest caliber. His self published magazines have, over the years include contributions from some of the biggest names in magic and he has, at one time or another won almost every magic competition in the UK has to offer. Not to mention appearing on national television on one of the UK's most popular magic slots - 'The Paul Daniels Magic Show'. His subtle, understated style, dry wit and off-beat creations make him a magician who is simply a pleasure to behold and his magic is material you will actually use - guaranteed. Sit back, relax and prepare to come face to face with the mind and magic of the one and only, Stephen Tucker!
Contents:
Jumping Jack Flash (gimmick included)
Avalanche
Paragon Monte
Signed Coin in Bottle
Incredible
Stroll On
Revelations 3
Heart Attach
Quintet
3 Fly Fo Fum
DVD Bonus Features:
The "Whiplash" DVD includes "PDF Prop" Required for the "Incredible" Routine plus a performance of Stephen's amazing "Omega" routine and Exclusive 20 minute interview conducted by Dave Forrest!
Running Time
Approximately 1hr 49min
Additional Image(s)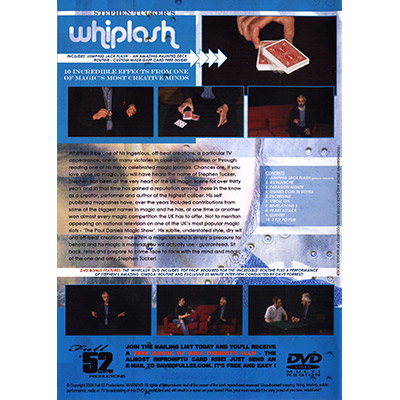 ---